Since the Herald did that feature article on our Breakfast Club my part time, unpaid, volunteer position at Breakfast Club has turned into a 50 hour a week incredible journey and I am loving every minute of it.  Read what I do in a week and you can see why I am so excited.
The week that has just gone went like this:
Monday:
50 children turned up for Breakfast Club at Glen Innes School.  This school is now averaging 100 children a week coming to the 2 Breakfasts … not bad out of a roll of 182.  A great team of mums and grand-mums have teamed up as well as helpers from Hillside Community Church, Tamaki Community Development Trust and me and daughter Danni.
After Breakfast Club we met with the owner of Pak-n-Save Glen Innes.  He has agreed to assist us with Glen Innes School and also be a sponsor in the Head 2 Head walk in October.  We see this as a long term relationship assisting us with our projects in this area.
We also met with a team from the 'Rice Bowl Fund' http://www.ricebowlmission.org.nz.  The Breakfast Clubs in Randwick Park School and Glen Innes will support this fund with the aim of our children being part of purchasing 'piglets' for a village in Myanmar.
Tuesday:
We met with the leadership of Manurewa East School (the neighbouring school to Randwick Park School) and are looking at partnering with them in a Breakfast Club and CrackerJack Kids programme.
Also had a meeting with 'The Collective' Dairy Company http://www.thecollectivedairy.com/nz/ who have agreed to be a sponsor for the Head 2 Head walk in October.  Discussions are now underway on exactly how this will work … watch this space.
Wednesday: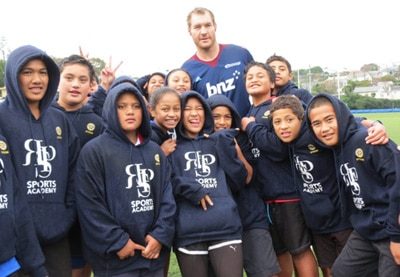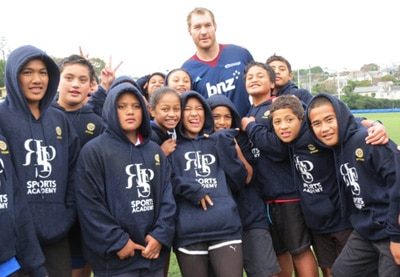 Our Sports Academy had their first excursion.  They went to St Heliers Bay where all of the 30 children had a timed run to Mission Bay.  None of the children had been to this area before.  They then had a visit to Auckland Blues Training where they were given the Royal Treatment.  I suppose the highlight of their day would have been when they 'swamped Ali Williams'.
Thursday:
We met with both the Manurewa Police and their Victim Support Unit.  An agreement has been reached where they will assist any of our families who are the victims of crimes … very quickly … and we will assist them with clothing, food, toiletries and other essential items.  We hope to take this partnership to Glen Innes.
Friday:
8.00am – A teacher came to Randwick Breakfast Club and informed me of what she considered was the success story of our Sports Academy.  Two children in her class are part of the Sports Academy … both of them probably would have been considered two of the worst children in class.  Both are now "up there" with the best children in class and one in particular has made a huge turn around to the point that a group of this teacher's friends donated $500 to our Sports Academy to be spent on providing this boy with 'football boots (which up till now his family have not been able to afford) school uniform … etc'
9.15am – We gave a good sized donation of food to the Anglican Food Bank in Manurewa after they had emailed us saying they had run out of food and also gave to the Equippers Church Food drive for this weekend.   These donations put our stocks down to critical levels but I felt that these requests for help deserved our assistance.
9.18am – Susie from Bayfield school rang, apologised for the short notice but said she was going to be at our school with 'some food' at about 11.00am.
10.00am – Kensington Swan Law Firm had three of their staff visit us and gave us about 250 Hoodies (when they said they would bring 50) heaps of clothing and $310.00 cash to go towards the Sports Academy.  We will use that to kit out two boys who are doing the Ball Boys' job at the St Kentigern v Sacred Heart Home game on 13 July which is being shown live on TV.  This law firm also offered to create a Charitable Trust for Head2Head and are also entering a team in the Head 2 Head walk around the Manukau harbour.
10.30am – As the team from Kensington Swan were with us, the Randwick Park Kapa Haka team just happened to walk in to our Breakfast Club room.  On the spot they gave an impromptu performance to our guests.  I just happened to see some lovely pink items of clothing in the bags they have given us and pulled them out, matching beanie, scarf and gloves and put them on a 7 year old girl I knew from Breakfast Club who was in the Kapa Haka group.   Little did I know that those items of clothing had belonged to the daughter of one of the lawyers present from Kensington Swan.  This lady was overcome to personally see the end result of her giving and when the young child came up and embraced her she was emotionally overcome.  We could not have scripted a better ending to the morning.
11.00 am –  Susie from Bayfield School turned up with about $2,000 worth of food which not only replaced what we had given out in the morning to the food banks but made us 'overflowing' with tin food resulting in double what we have ever had as well as giving heaps of baby clothes and baby toys.  It just goes to show that the principle of sowing and reaping is alive and well today.
Saturday:
A day off but we did go to our food bank to pick up some food for Glen Innes as well as dropping off some milk and biscuits to a family in the community.
Sunday:
After having a great day off on Saturday I was hoping that this too would be a quiet day – not so.
11am – New Hope Church in Botany had their congregation bring "groceries' to Church.  We loaded my Jeep up with about $2,000 worth of food which will be used to set up the Food Bank at Glen Innes Primary School.  This Church has also indicated that they wish to partner with us and Glen Innes School in funding and manning the Breakfast Club on Wednesdays and Thursdays days next term, organise Working Bees and assist with working  'one on one' working with the children.
I write this with a satisfied, grateful heart as I see love in action, people connecting with people, provision connecting with needs and communities coming together to facilitate positive change.
The momentum coming from the Herald article has been great.
This week, hopefully I will have time to word our Head 2 Head web site and then notify you all that it is live and ready to go.