As usual, I must apologise for my tardiness in getting out a newsletter before now.  My main problem is finding the time from being out on the road to sitting down putting my ideas into words.  Hopefully now, with a new team member on board, that time will be found.
Here are a few of the main events from the end of last year and this year so far:
2016 – 2017 Brochure
Every month, for compliance purposes with the Charities Commission, I create a donation schedule of what we receive (the monetary value of these donations) and where we send it.  In 2016 we, for the first time, exceeded $500,000.  In fact, in the last two years we have received and distributed over $1,000,000.00.  This year we are ahead of last year by over $40,000.00.
On the 1st of June this year, we were asked to distribute 250 x 25 kilo bags of rice, about 5 ton.  We were given a few days to achieve this task.  We contacted 11 various charities/food banks and handed out this rice in one hour.  This same supporter gave us 12 pallets of rice crackers earlier in the year to distribute.
Apart from our 7 schools, we are now looking after we are also sending food to, Kaeo, Whakatane, Tauranga, Hamilton and Tauramanui (some are in tandem with St Kentigern College).  The recent flooding in Edgecumbe saw 30 banana boxes going down there to feed the volunteers and over 100 pies.
Probably the most exciting news we have, that is in this Brochure is the supplying of school uniforms to the senior children at both Glen Innes and Glen Taylor Schools and the positive results that are being achieved in both attendance and learning. Read the full brochure
here
.
---
 Christmas 2016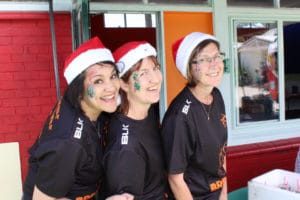 We invited 100 families to our Christmas Store at Glen Innes School.  Every family that attended received over $500.00 worth of groceries.  Every child received a present, unlimited lollies, free Mr Whippy, facepainting and lots of food.
Not only did we invite children from our schools, we also invited 20 families from Vaka Tautua, a Manukau Charity that among other things looks after disabled persons throughout Auckland.
We have decided this Christmas to increase the number of families being invited to 150.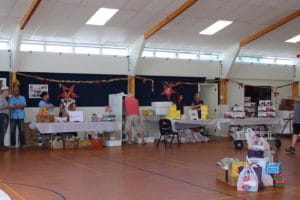 The criteria for being invited is carried out by both the Social Worker in the Schools and the School Principal.
This year we are looking at adding a "Midwife's Table" in the store with nappies, talc etc for mums with young children, and also a Cook Island Stand giving away food familiar to the palate of those attending.  Outside for the children, we will add Candy Floss, Bouncy Castles and a Café (Hot Chocolates and Coffee).
This event will again be on the 23rd of December between mid day and 5pm.  We would love to see our supporters turn up!
We will be raising $15,000 for this event – and increase on the $12,000 raised last year.
---
Te Ahiwaru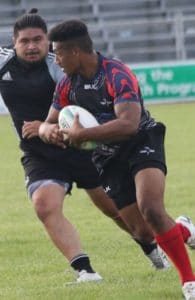 A number of people have followed the progress of Te Ahiwaru over the last two years, since his arrival at St Kentigern College from Te Araroa until he graduated at the end of last year.
He was lucky enough to receive a offer to attend the Crusaders Academy in Nelson, and since then he has been selected to the Mako's Under 20 Maori Team (see picture) and also the Mako's Representative side.
Breakfast Club have been sending down to his boarding house in Nelson toiletries and cereal, and recently assisted in his application for a Passport.
---
Etonia Waqa and Kuli Baliesomosomo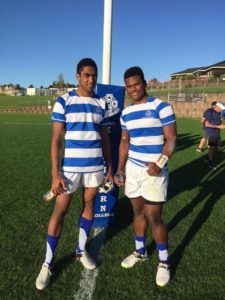 Breakfast Club were approached by the family of Kuli, and St Kentigern College for Etonia, to assist with guardianship of them both during their stay from Fiji. Both of these boys have come from a village situation to the big smoke of Auckland with no idea what to expect and how to handle a lot of things.
BLK Sports, and the Shoe Clinics at Manukau and Sylvia Park are on board supplying sports gear, which has been a great help. Etonia, Year 13, is a size 16 foot, so very hard to source footwear.
Etonia in particular, is having a great year with the 1st XV, having made the team of two tournaments in 2017. One of those tournaments was in Christchurch, where he was seen by the Crusaders Academy (watch this space).
Kuli, in his first year with the 1st XV, is a powerhouse winger (108 kg and 6'3″). we are picking that 2017 he will be a forced to be reckoned with.
Both these boys love their food -anyone with spare chickens please contact Breakfast Club. The usually eat one per meal. If you do not have chickens, Tuna in a can is their second favourite.
---
New Schools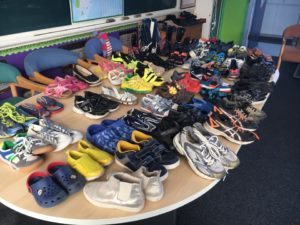 St Kentigern College asked us to partner with them with Tamaki School with Breakfast Club and sporting equipment.  Rotary Auckland East have also partnered with us in this project.  This school is situated in the centre of the Glen Innes/Panmure area and has a Principal with a great attitude to change the past.  Hubbards Cereals has given us extra cereal for this school and BLK Sports has supplied new sporting balls.
A few weeks ago, Family Works, informed us of a school on the way to Port Waikato, which has 26 children and is struggling with being in the middle of no-where.  We visited this school and found that the children there were among the most friendly of all of the children in our schools, and the Headmistress and two staff were so hospitable.  The same week that we went to this school, Mellons Bay Primary (in Howick) gave us 250 pairs of shoes.  We took all of these shoes to this school and gave the children first choice.  Among these shoes were 30 pairs of soccer/rugby boots.
We are now joining forces with BLK Sports and St Kentigern School, and looking at supplying school uniform for all of these children.
---
Merediths Restaurant
We were approached by Michael Meredith, Executive/Celebrity Chef to donate the value of the meals on Tuesday nights between the 20th of June and the 25th of July.  The guests pay the restaurant for their drinks and donate the cost of the food to Breakfast Club.
Merediths, at 365 Dominion Road, Mt Eden, is a restaurant that should be on everyone's bucket list.  Please go to 
www.merediths.co.nz
 nad reserve your seat to support Breakfast Club.
Michael received the New Zealand Order of Merit in this years Queens Birthday honours list.  This is what was said about him:
"Mr Meredith has had an extensive career in Auckland restaurants, including Antoine's, Vinnies, and as founding chef of The Grove. He established Meredith's Restaurant in Mt Eden in 2007, winning the Metro Magazine supreme restaurant award in 2009 and Cuisine New Zealand Restaurant of the Year in 2011. He has twice been named outstanding chef at the annual Auckland hospitality industry awards. He holds weekly 'Dine by Donation' nights at his restaurant, donating the profits to charitable causes. He supports the Garden to Table Trust through fund-raising and school visits, and he is culinary advisor to Eat My Lunch, a social enterprise business that serves thousands of free lunches to Auckland school children every week. For the past year he has been a chef consultant to Air New Zealand. Mr Meredith regularly participates in fundraisers such as 'Flavours of Fiji', which raised funds for aid after Cyclone Winston, and is a Fred Hollows Foundation 'Miracle Maker', raising tens of thousands of dollars for the foundation through auctions, dinners, and direct appeals."