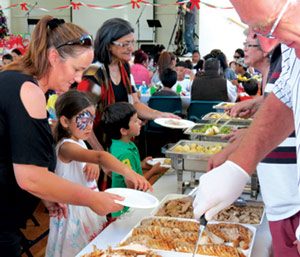 On the 23rd of December 2013 we held a Christmas Banquet at Glen Innes School (with 300 people attending) after hearing that a number of the families that attended this school either did not celebrate Christmas with a special meal or went into the City Mission Luncheon.
What turned out as an idea between my wife and I quickly morphed into a concept that had huge momentum.  Within three weeks of launching a 'Give-a-Little' donation page we had raised enough money for all of the food we required.  Within six weeks we had enough money for extra presents, drinks, table cloths, decorations, sweets – the list goes on.  We would have received phone calls daily with individuals and Company's offering goods & services and money right up until the day the Banquet was happening.
We have decided that on the 23rd of December this year to do a lunch and dinner and invite 600 people from Glen Innes, St Pius X and Glen Brae Schools.